Online Safety 4 School – FOBISIA Online Safety Webinar (Part 1) for Staff December 2022

For Full Access to Above Online Safety Resources email onlinesafety4schools@gmail.com or besafeonline@ymail.com
Online Safety Workshops for Students – Staff – Parents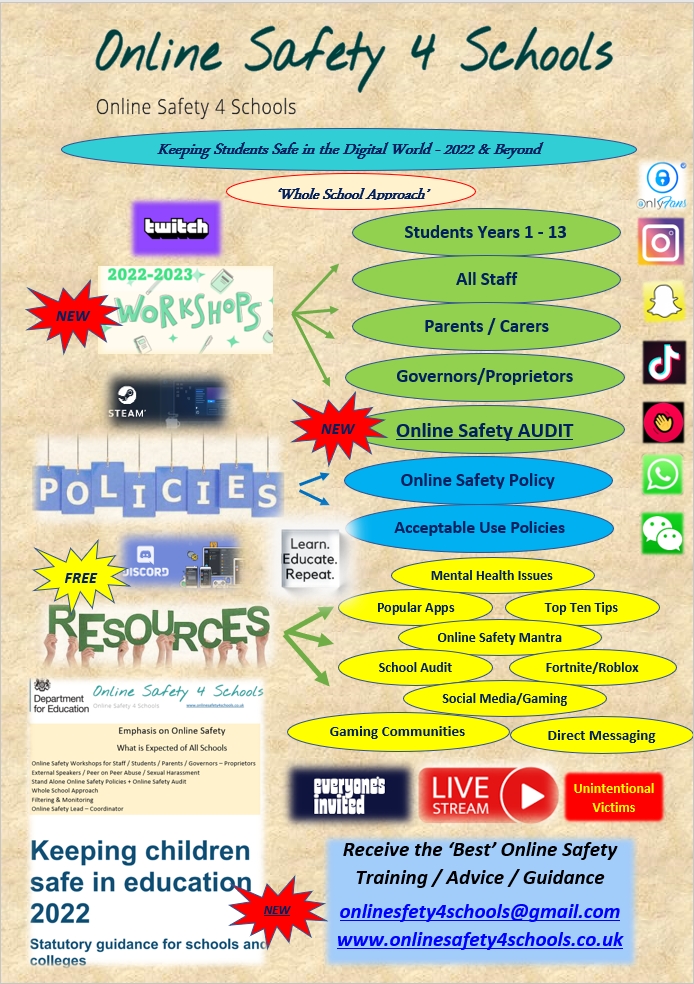 With the world continuing to 'open up', International and UK schools have taken the opportunity to receive Online Safety Training for Students, Parents, Staff and school Governors / Executives.
Online Safety is about Behaviour, Online Safety is The Informed Use of Devices, Sites, Apps & Gaming  & Online Behaviour must be Appropriate and Acceptable to make for a Safe Online Environment. Social Media, Apps & Gaming are nothing to be afraid of, however schools must:
Keep Pupils Safe – Protect Educators – Safeguard Schools – Involve Parents & Carers
2022 Update- Online Safety 4 Schools has returned to 'Face to Face' workshops for Students and Staff, whilst many schools here in UK and internationally have preferred to stay with virtual Online Safety workshops for parents.
Online Safety workshops have been updated to be line with Keeping Children Safe In Education 2022, which correctly identifies the need for accurate informative & bespoke Online Safety Training.
Click 4 Online Safety Workshops
Training for Teachers / Workshops for Pupils Yrs 1 – 13 / Parental Information Workshops / Online Safety Policies / Filtering & Monitoring of Internet Usage
What do All Staff Need to Know about Online Safety ?
Keeping Pace with Social Media & Online Safety Online Exploitation: Online Bullying/Online/Grooming/Online Reputation
Speaking at Nord Anglia Chinese International School