For Full Access to Above Online Safety Resources email onlinesafety4schools@gmail.com or besafeonline@ymail.com
Online Safety Workshops for Students – Staff – Parents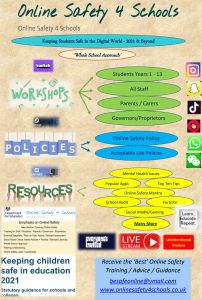 With the World beginning to 'open up' like all Schools in the UK and Internationally, I am monitoring the current conditions of travel and the advice on self-quarantining here in the UK and between the UK and countries worldwide
Online Safety is about Behaviour, Online Safety is The Informed Use of Devices, Sites, Apps & Gaming  & Online Behaviour must be Appropriate and Acceptable to make for a Safe Online Environment. Social Media, Apps & Gaming are nothing to be afraid of, however schools must:
Keep Pupils Safe – Protect Educators – Safeguard Schools – Involve Parents & Carers
2022 Update- Online Safety 4 Schools continue with Virtual Online Safety Workshops for International Schools, & face to face for UK & European Schools (Covid Compliant).
Online Safety workshops have been updated to be line with KCSIE 2021, which correctly identifies the need for accurate informative & bespoke Online Safety Training.
Click 4 Online Safety Workshops
Training for Teachers / Workshops for Pupils Yrs 1 – 13 / Parental Information Workshops / Online Safety Policies / Filtering & Monitoring of Internet Usage
What do All Staff Need to Know about Online Safety ?
Keeping Pace with Social Media & Online Safety Online Exploitation: Online Bullying/Online/Grooming/Online Reputation
Speaking at Nord Anglia Chinese International School